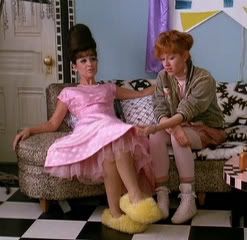 This title applies to me in a serious way right now. I recently discovered the joy of XM radio (I know, I'm a bit late on that), and am pretty much obsessed with Lithium (90's grunge/alt rock) and 90's on 9. Really, it's rare that I listen to any other station. This is also evident if you've ever been over to my
tumblr
. The 90's song of the week is about the only thing I blog, and every week I spend more time than I should watching youtube videos, listening repeatedly to my favorite 90's songs on iTunes, and looking for ones I loved at some point but forgot about.
For a while, it was 80's. And it still kind of is, but I've switched over to more of an 80's-movies-obsession rather than music. I wouldn't be lying if I said I've watched Pretty In Pink four times over the course of the past three weeks (see image). But I get hooked on things like that. When I find music I like, I wear it out, same with movies. I couldn't tell you what I like about Pretty In Pink...well, actually I could. A huge part of what I love in that movie is John Cryer and the role he plays. He is absolutely great.
But back to the 90's. My current obsession-within-an-obsession would be Oasis. I found
this
video the other day, and haven't stopped listening to them since. I mean, I've always had the Oasis staples in my collection (Wonderwall, Don't Go Away, etc)...but these kicks come out of nowhere. It's just kind of like, you've heard "Champagne Supernova" more times than you can count, but then you see or hear a different version or whatever and it's like a lightbulb goes off and you're just like "damn, that's a GOOD song." That happened with me too the other day for Tracy Chapman's "Fast Car." I hated that song when it was popular because it was played so much on the radio, but I watched a live version on youtube the other day and got goosebumps. Maybe I'm just weird. But I do love the 90's.
In other news, ROBYN was on The Ellen Show today...awesome. This would be the same Robyn you know from the 90's ("Show Me Love" was one of her more popular singles). But she is way better now. Also, I may have exaggerated a tiny bit earlier, I do listen to a couple other stations from time to time on xm, and I'm kind of hooked on a song called "Young Blood" by Naked and Famous. I have no idea who they are, but I love the song.