I give you...the bubble scarf: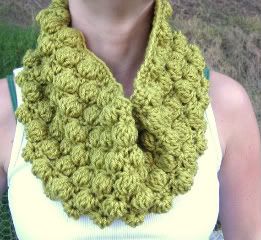 LOVE this look. I happened to find this exact one for $14 from the lovely
Hooks & Hammers
shop on Etsy. (and it looks even prettier in person, which tends to be the case with etsy items) If you are interested, I recommend just searching "bubble scarf" and seeing what pops up. so much etsy goodness!
My impulsive and highly ambitious next purchase was the pattern for said bubble scarf. I know enough to sit for long periods of time and make the same crochet stitch repeatedly, but so far I've lost my patience with trying anything else. Maybe someday, though.