Mates of State :: Mountaintops


Cannot. stop. listening. And yes that warranted three periods. Mates of State is an acquired taste, for sure (consisting primarily of drums and an organ), but they seriously never disappoint. I've been listening to them for a while now, and I love their music and story (husband and wife duo, they quit their day jobs, and now record and tour with their toddlers in tow). The organ is something I specifically love about Mates of State because it's unique, but also because it gives their sound a depth that you wouldn't expect. The vocal blend and harmonies that they pull off is something else I love. I assume that comes easier to spouses in the same way it comes easy to siblings who sing together, etc. Also, if I want to be in a good mood, I put on MOS. Conversely, that doesn't mean that all their music is happy, because it isn't necessarily. I've read a couple reviews that dub MOS almost too sugary to stand, but I disagree. I am the queen of being attracted to depressing music (Tori Amos is my favorite artist of all time, if that doesn't say enough), and I love them. So there. One of the few artists who I can bank on buying their new album on iTunes the day it's released without even giving a listen because I know I'll love it. "Palomino," and "Mistakes" are two of my current favorites form this one.
Sarah Jaffe :: The Way Sound Leaves a Room


One of the many artists I've discovered as a result of having satellite radio. My first favorite of her's was "Clementine"...I wore that song out and still love it. This new EP is amazing. Highly recommend the songs, "The Way Sound Leaves a Room," "When You Rest," and her cover of Drake's "Shut It Down." but I am loving the whole thing.
Here's
a good review if you're interested. Yay for new music from artists I love!
Kassidy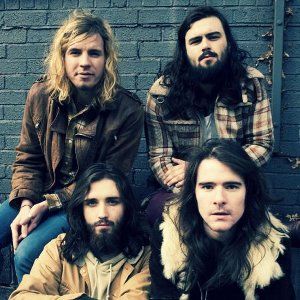 Very new to me...but I am loving them so far. Heard their song "I Don't Know" on the radio and loved it, then spent thirty minutes thinking I had mistaken their name since they were nowhere to be found on iTunes...then realized it's because they aren't. LAME. They were described on the radio as "Britain's version of Kings of Leon"...which, from what I've heard, is about on point. Maybe a cross between Mumford and Sons, Kings of Leon, and The Avett Brothers? Like I said, they are totally new to me, but if I'm right about that, that's a pretty awesome combination. They're from Scotland...which I also think is awesome (for no real reason). The song I mentioned ("I Don't Know") is pretty much my favorite song right now and it is catchy as hell. I hope we hear more from them soon...and the U.S. iTunes store needs to get on that.